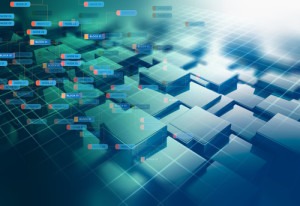 The company's Autonomous Decentralized Peer-to-Peer Telemetry environment uses a blockchain protocol as a basis for a distributed network of devices.
Last month IBM was awarded a patent for the autonomous self-servicing of the networked devices that are part of it's Autonomous Decentralized Peer-to-Peer Telemetry (ADEPT) environment. The company revealed a proof-of-concept for the environment back in March of 2016 as part of their collaboration with Samsung. The system uses blockchain as the basses for a distributed network of IoT devices. Samsung says it's similar to a decentralized IoT.
"IoT controllers are often centralized […] [with] different IoT solution vendors [providing] proprietary solutions that follow similar centralized architectures," IBM explained as a background to its new patent filing.
See also: Blockchain-as-a-Service – A solution in search of a problem?
The company went on to say that they believe self-servicing devices can improve the efficiency of decentralized systems, diagnose potential problems and automate solutions. Their autonomous self-serving would use an ADEPT peer to connect to other peers based on peer consensus and then determine service needs based on diagnostic insights. It can also provide functionalities like peer-to-peer messaging, file sharing, autonomous coordination of devices and negotiations service contracts between trading partners, including ADEPT devices and service providers.
The patent continues to outline further functionalities as part of the decentralized IoT system, in which the devices would engage in controlled self-servicing "based on foundational IoT trusted transactions in a peer-to-peer and decentralized manner."
According to a report published in August, IBM is second only to Alibaba when it comes to filing blockchain related patents. IBM has filed 89, just one less than Alibaba.
IBM has been diversifying its blockchain investments in multiple fields and has recently filed for another patent, this one involving blockchain and drone security, specifically how it can be used to securely store data collected by them.