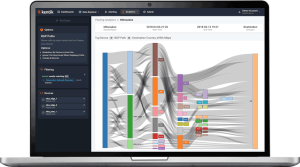 My Kentik self-service tool is a native portal within Kentik's SaaS platform.
Network analytics company Kentik has launched My Kentik, a self-service analytics tool that is a native portal within the company's SaaS platform. It enables communications service providers to get real-time, customized views of network data and share them with downstream providers. The company says My Kentik is designed to improve customer experience with deep, detailed insights that can be used for decision making, planning, troubleshooting and network optimization.
See also: 10 important features for big data analytics tools
"In every industry, business is increasingly being conducted online, and end-customers are looking for their service providers to go beyond simply providing connectivity," said Avi Freedman, co-founder and CEO of Kentik. "Until recently, most CSPs focused on preventing outages and incidents to avoid revenue or reputation damage. With the release of My Kentik, we're fulfilling a request from some of our largest customers and ultimately creating another way for them to turn network data into value for their businesses and their end-customers."
According to the company's announcement, key benefits of My Kentik include:
Added top-line revenue from new network visibility, security, and performance features
Reduced support and billing caseloads by providing customers with self-service access to analytics and insights about their service utilization
Higher customer retention through increased service utilization and value
My Kentik is designed to extend and enhance the monitoring experience for internal departments and end users alike. It allows customers to see what cloud and SaaS applications drive network costs the most and which ones require the most utilization. This helps eliminate billing issues and improve network performance while giving real-time feedback to DevOps teams.