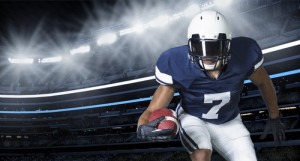 Big Data Bowl is a football analytics competition that lets users access historical data sets of the same player tracking data used by teams.
The National Football League (NFL) has announced the creation of the NFL Big Data Bowl. The Big Data Bowl is football analytics competition for college students and professionals. Competitors are allowed to use historical data sets of the same player tracking data NFL teams use. With this data, they can come up with insights and make suggestions of new innovations regarding how football can be played and coached.
Finalists will be invited to present their findings to league and club personnel at the annual Scouting Combine later this year and have access to player tracking data the teams use to analyze trends and develop game strategies. Those interested in participating can sign up for one of two categories, one for college students and one for professionals.
See also: How real-time sensors avoid sports injuries
"As the sports analytics community continues to expand and progress, we are excited to host an analytics competition focusing on creative and innovative ways to approach and use football data," said Damani Leech, the NFL's Senior Vice President of Football Strategy and Business Development. "The NFL and its clubs use of football analytics continues to grow and focusing the competition on college students and young professionals allows us to hear from the next generation of young minds that will help shape the industry in the years to come."
Participants are encouraged to rethink player evaluation tools and come up with new innovations for the way the game is played and coached. NFL player tracking, called Next Gen Stats, captures real-time location, speed and acceleration data for every player on every play everywhere on the field. Sensors track tags in players' pads to for accurate movements within inches.
Interested participants can sign up for the competition via ops.nfl.com/big-data-bowl