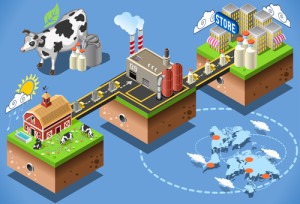 The partnership combines FourKites' real-time supply chain visibility and monitoring features with Teletrac's fleet management software.
Supply chain solution provider Teletrac Navman announced a new integration with FourKites, combining the latter's real-time visibility and monitoring technology with Teletrac Navman's fleet management software and federally-compliant ELD platform to provide a comprehensive supply chain tracking and analytics solution for fleets and shippers.
The newly formed integration will operate across Teletrac Navman APL framework, which will allow both systems to share information and work together. All data is sent directly to the end user for maximum visibility of freight operations. Supply chain customers will know in real-time where their freight is and when it will arrive at each stop on the route to its destination.
See also: How AI will transform supply chain management
"We are pleased to have Teletrac Navman join the FourKites ELD Certified partner program," said Craig Fiander, Senior Vice President, Global Business Development for FourKites. "Seamless integration with Teletrac Navman provides FourKites' customers key tools and metrics to manage notifications, reduce dwell times, potential detention fees and provide real-time ETAs for all types of multimodal loads."
The firm says this new "super-platform" includes several key features:
Minute-by-minute GPS tracking for real-time visibility into asset locations and live updates
Precise ETAs using predictive algorithms and GPS-ELD data, limiting check-in calls and improving delivery times
In-vehicle, FMCSA-certified ELD logs to track driver on- and off-duty time, breaks and daily drive time, enabling managers to plan daily hauls based on data
Intermodal coverage for over-the-road or rail-, train- and ocean-based operations
Two-way messaging for instant driver-dispatch communication, including manager-based routing, in-cab updates, signature capture and DVIR for post- and pre-trip inspections
Driver and vehicle reporting for everything from engine diagnostics and fault codes to fuel economy, speeding and idle time
"Teletrac Navman is consistently looking for ways to give our customers more insight and a more holistic view into their business," said Daren Lauda, general manager of North America, Teletrac Navman. "Partnering with FourKites is another way of doing that – the more data we can deliver in a single interface, the better our customers' operations and customer service."