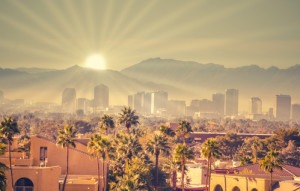 Sunnyside Unified School District will use Hive Fabric to enhance its virtual infrastructure ecosystem.
Virtualization platform provider HiveIO Inc. has announced that Arizona's Sunnyside Unified School District has chosen Hive Fabric for its virtual infrastructure ecosystem.
Hive Fabric is AI-powered and hyper-converged to provide an all-in-one stack that's easy to manage and can handle high demand for desktop applications.
Sunnyside USD serves over 16,000 students, making it the largest school district in Southern Arizona. As it continues to grow, it needed a way to scale its infrastructure while keeping things seamless. They deployed Hive Fabric on top of their existing hardware which enabled them to move from a multi-vendor, multi-layer stack to an all in one stack with a single point of contact for support.
See also: 5 compliance myths with cloud and virtual environments
"Prior to the Hive Fabric deployment, the Sunnyside IT team was using four different vendors on a traditional three-tier architecture, with separate boxes from separate vendors for compute, network, and storage," said Javier Baca, CIO at Sunnyside Unified School District. "We selected HiveIO because it was an easier-to-manage VDI solution that provided simple scalability and was just as robust as our current stack. Hive Fabric also helped the district transition from managing individual desktops to pools of desktops, which freed up our IT resources, allowing the team to focus on delivering an even better experience to our staff and students."
Choosing Hive Fabric allowed the district to eliminate the need for multi-vendor stacks, which reduced IT costs. It also enabled them to provide persistent user profiles and streamline management.
"Education has always been a priority for our society, and we have witnessed the increasing demand for technology to keep up with students' expectations on digital resources," said Dan Newton, CEO HiveIO. "We are very proud to be able to offer Sunnyside USD a simple, easy-to-manage and cost-effective solution that allows them to provide the ultimate experience to their staff and students while satisfying their performance, scale, and security needs without the vendor and licensing complications."