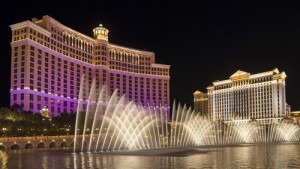 This innovative smart city is looking at implementing blockchain to push further tech developments and applications.
The City of Las Vegas announced it is reviewing blockchain and its potential implementation for smart city applications to improve services for the community. Blockchain is a decentralized database technology with communal maintenance.
Michael Lee Sherwood, the city's director of innovation and technology, said Las Vegas is "examining with partners to harness the best application uses which will increase productivity and service delivery to our community. Look for more to come on Las Vegas and blockchain in 2019,"
Las Vegas is one of many cities considering the use of blockchain and it was the subject of a panel at the recent CES trade show. There, experts encouraged cities to focus on what using the technology will mean for their communities rather than worrying about how it works.
See also: 4 predictions on blockchain and the cyber "arms race" in 2019
"Smart cities of the future, the smart governments of the future, will have to go ahead and have the blockchain as part of their leadership," said Natalia Olson-Urtecho, co-founder and head of strategy and innovation at consulting firm The Disruptive Factory.
Blockchain is a key element of smart city applications, which are designed to improve day-to-day living for residents. Popular applications include smart street lighting, parking, air quality, and traffic control.
Smart cities were the subjects of three different panels at CES, and the general consensus was that digitizing the urban space is a need, not a luxury and city managers should take note.  Las Vegas has already begun to do so with its innovation district, which works as a test environment. They've also just announced a six-month pilot program with AT&T and Ubicquia to create a smart lighting network.
Sherwood said Las Vegas is seeking to be a leader in new civic technologies because it "fits with the spirit of the community."