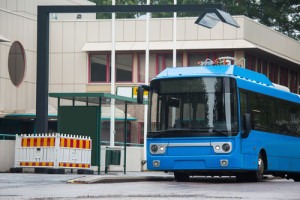 Connect 360TM is a real-time, cloud-based business analytics dashboard for Xcelsior Charge battery-electric buses.
New Flyer of America Inc., the largest bus manufacturer in North America, has introduced a real-time, cloud-based business analytics dashboard for Xcelsior Charge battery-electric buses. The Connect360TM dashboard is run by New Flyer Connect.
New Flyer Connect is designed to track bus performance using cloud-based technology, and its analytics can be accessed 24/7 via web browser, tablet or smartphone. It is the industry's first IoT technology-based application for smart mobility.
"We are proud to build on the success of New Flyer Connect with Connect 360, offering analytics that make our zero-emission buses are even more efficient, reliable, and sustainable," said Chris Stoddart, President, New Flyer. "New Flyer continues to evolve its analytics technology as public transit becomes increasingly optimized for smart, connected cities. By introducing Connect 360, we expand insight, intelligence, and efficiency for operating battery-electric transit buses, which transit agencies across America can leverage to help integrate zero-emission buses into their fleets, and to improve data-driven sustainability in overall operation."
See also: Power at the edge — how EVs will fill up on the fly
Key insights and business intelligence provided by Connect360TM include battery health and charge, outside air temperature, GPS, average speed, energy and HVAC consumption per mile, and regenerative braking. These insights can improve decision making, optimize fleet utilization, conserve energy, and improve driver performance while reducing costs. It is included on every new Xcelsior ChargeTM ZEB and provides a complete view of operational performance to help agencies get a better grasp on the technology as they transition to zero-emission fleets.
The dashboard allows agencies to translate data into graphs and measurements for improved data visualization which in turn can help optimize ZEB fleet performance and improve all aspects of bus operation including drivers, passengers, and maintenance.