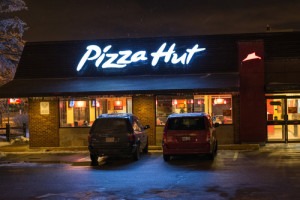 Pizza Hut expects an 18% reduction in average monthly energy usage between now and 2022 thanks to advanced IoT.
American West Restaurant Group, the third largest Pizza Hut franchise in the United States, announced they are on track to save an estimated $2 million in energy costs and reduce their average monthly energy usage by 18% over the next 5 years. This is due to an IoT-based approach to energy management. EcoEnergy Insights is credited with creating a customized program for AWGR's hundreds of restaurants.
In 2015, AWGR decided to work toward reducing their monthly energy usage by 15% in a trial group of 8 restaurants. EcoEnergy helped them reach their goal in 18 months, so AWGR then added the rest of their franchises. The news comes as the group celebrates their 10th year in business.
They did so by using the Cortix AI and IoT platform to deploy an energy management strategy at each restaurant. This not only resulted in immediate results but laid a solid foundation for year on year savings and improved decision making. The restaurants were connected to the EcoEnergy Insights Command Center for continuous benchmarking.
See also: How blockchain can enable real-time green energy transactions
"We were convinced that the answer was in advanced analytics, not in retrofitting, as in, modifications to existing restaurants that may improve energy efficiency or decrease energy demand," said Jerry Ardizzone, president, AWRG. "Our search for a technologically sound solution that would provide full restaurant visibility and take into account the dynamics of our operations led us to EcoEnergy Insights.
I'm pleased we're working with EcoEnergy Insights – and that this engagement has been a recipient of the Environmental Leader award. EcoEnergy Insight's advanced analytics are reducing our carbon footprint and elevating AWRG's sustainable practices and social responsibility. We look forward to positive results through their platform and our synergies for years to come."