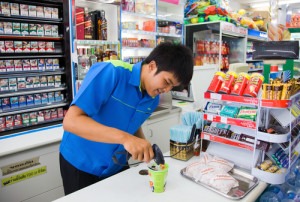 SK Telecom leverages IoT expertise to provide a connected personal security device, as well as streamline convenience store operations for shoppers.
SK Telecom announced the availability of an IoT-enabled personal protection kit. The kit, called My Hero, is shaped like a lipstick and can alert the police in case of an emergency. All the user has to do is open it and it will immediately contact the police and send out a 90dB alarm. In addition, it will begin recording audio for up to three minutes and can be configured to send texts and location info to up to five pre-chosen contacts.
The My Hero device is 8 centimeters long with a 0.8-centimeter diameter and can easily be carried in a pocket, bag, purse or as a necklace. SK Telecom said it will be available for $22 and is available in their online and brick and mortar stores. Users can activate it by registering it on the company's SKT Smart Home app.
See also: Retail market for AI could hot $8 billion by 2024 
The company also announced it plans to install its NUGU-brand AI speakers, previously marketed for home use, in 100 CU convenience stores to help streamline store operations. The speakers will be located on the counter and will be programmed with the answers to over 200 common questions related to store management and operation, such as the current location of delivery trucks and their estimated arrival so that clerks can be prepared to accept them. The speakers will also be programmed with the contact info for all in-store equipment vendors so clerks can easily reach them in the case of any malfunctions or other problems.
Previously the clerks had to make phone calls or spend time on computer searches to get the info they needed. CU and SK say they believe the speakers will be great time savers and plan to expand the installations in the future. SK said they also plan to offer the speakers to other retailers and hotels as well.