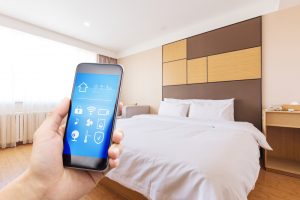 The Fiesta Americana Viaducto Aeropuerto Hotel in Mexico City now features a room full of Enseo's smart hotel room technology.
Enseo and sister company Catapult Tech this month have teamed up to bring a futuristic room to the Fiesta Americana Viaducto Aeropuerto Hotel in Mexico City. The new hotel offers a full suite of smart hotel room tech including remote management through a mobile app and streaming entertainment. The hotel's goal is to provide a unique, connected in-room experience that also helps them conserve energy. This has been accomplished using a guest entertainment system and IoT device management platform and remote apps for guests.
"We are thrilled to be working with Enseo and hope that this is the first of many projects to come," commented Simón Galante CEO of FibraHotel. "We have a strong desire to become the hospitality leaders in technology in Mexico. FibraHotel is in a technological transformation, and Fiesta Americana Viaducto is the best example of it."
Guests can use their phones to control the room's lighting, temperature, television and window shades thanks to Enseo's Fido IoT platform. This helps the hotel be energy efficient while still providing a high standard of customer satisfaction and comfort. The platform also offers a cutting edge entertainment system with popular apps like Netflix and YouTube and a customized user interface.
The Fido solution does not require guests to download an app, log in or even join the hotel's WiFi. They simply have to pair their phone with the TV for instant and easy access to all the entertainment and room management options.
"I am honored to have been chosen by Fibra to bring the world's most advanced guest room into reality. Mexico City has always been known for culinary and fashion innovation, now we've worked together to add ultimate hotel technology," commented Vanessa Ogle, CEO and founder of Enseo. "The leadership of Fibra and Posadas worked together with the technology team at Catapult Tech. By joining everyone's expertise, we launched the world's most advanced and welcoming guest experience and also brought tremendous benefit of an enticing price point to the owners that will save both the bottom line as well as the environment. This team has paved the way to the hotel room of the future."