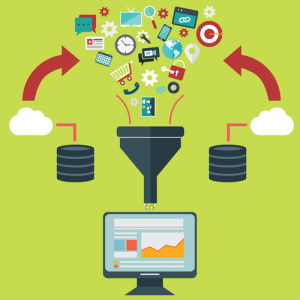 Startup's full-stack operations platform assists enterprises with data ingestion, migration, processing and more.
.Big Data is soaring in popularity. According to a report by Dresner Advisory Services, big data adoption in the enterprise jumped from 17% in 2015 to 59% in 2018.
Big data may be enjoying skyrocketing popularity, But that doesn't mean the apps and systems needed to manage it are easy to handle. Industry vendor Unravel is working to change that with a full-stack data operations platform that gives enterprises tools for everything from data ingestion to data processing and transformation.
See also: Big Data Battle Shifts Fronts
"Every business is becoming a data business, and companies are relying on their data applications such as machine learning, IoT and customer analytics for better business outcomes using technologies such as Spark, Kafka, and NoSQL," Unravel CEO Kunal Agarwal said in a statement.
He continued, "We are making sure that these technologies are easy to operate and are high performing so that businesses can depend on them. We partner with our customers through their data journey and help them successfully run data apps on various systems whether on-premises or in the cloud."
The Palo Alto, CA, company's annual revenue grew 500% year-over-year in 2018. Now, they've completed a successful series C funding round that raised $35 million. Harmony Partners, Menlo Ventures, GGV Capital, and M12 (Microsoft Ventures) were among the participants. The deal follows a $15 million series B round in January 2018 and $7 million series B round in September 2016.
Unravel's platform tracks and analyzes performance issues on customer systems and the apps that run on them to fix resource wasting, bottlenecks, and failures before they bog down systems. The company aims to simplify the delivery of stable, reliable apps for enterprise engineers, developers, and network architects, Agarwal said.
The Unravel platform is described as agentless, low-overhead and ready for deployment onsite, in the cloud or in hybrid cloud environments. These include Cloudera, Google Cloud, Oracle DBA, Quoble, Amazon Web Services, Hortonworks, Microsoft's Azure, Cassandra, Databricks, and Mapr.
It also offers per-node and per-cluster visibility into containers, schedulers, code, configurations and more. Users can see dependencies between apps, services and hot/cold storage on one easy to use dashboard with both metrics and data visualizations and it uses machine language to provide plain-language configuration recommendations that are future-proof.
Unravel also comes with an API that integrates with Spark, Kafka, Hadoop, Tez, Slack, Pagerdubut, Apache HBase, and others, plus a comprehensive set of migration tools.
Customers include Kaiser Permanente, Autodesk, YP.com, Adobe, Deutsche Bank, Wayfair, and Neustar, plus software startups, Fortune 100 financial services, airlines, supermarket retailers, multinational telecom groups and telecom providers, and global banks, the company said