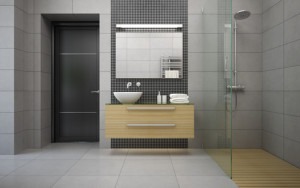 LG's Smart Bathroom service offers bidet toilets and ventilators with Wi-Fi connections that can be controlled via smartphones.
Korean electronics firm LG, via their LG Uplus smart home unit has launched a suite of IoT services for bathrooms in partnership with bathroom remodeling company Inus Bath.
Their Smart Bathroom Service includes bidet toilets and WiFi-enabled ventilators that can be controlled via a mobile app. Users can customize the settings to suit their individual preferences.
Inus Bath's connected bidet also allows users to customize nozzle aim, water pressure, temperature and other settings and each member of the household can have their own individualized settings. Everything is controlled by LG Uplus's IoT Home platform.
See also: Comcast xFi pods make your home smarter, faster
When the bidet's filters or nozzles need cleaning or changing, the user is notified via a push notification and directed to the online storefront IoT Shop where accessories and replacement parts for the bidet can be purchased.
The bidet also has a feature that can detect and alert users that they've been sitting on it for too long. Some medical experts say doing so can be unhealthy and have negative effects on circulation. The bidet is programmed to send an alarm via its mobile app.
The ventilator can also be operated remotely and can be set to automatically turn on when the temperature and humidity get too high. LG Uplus said it plans to add voice controls in the future using with Naver's Clova AI platform. LG Uplus and LG Electronics currently offer Naver's smart AI speaker for the home.
LG Uplus said this is just the beginning of their Smart Bathroom/Smart Home rollout. They have plans to introduce as many as 50 IoT devices for the home including fans, door sensors and light switches that will work together seamlessly to create a next generation smart home.