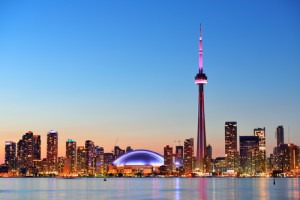 The new data center in Toronto will support the increasing demand for Oracle Cloud Infrastructure.
Oracle has opened a data center in Toronto, Canada to support demand in the region for their public cloud, Oracle Cloud Infrastructure. The next-generation cloud infrastructure offers flexibility to companies, allowing them to run both cloud and traditional workloads on the same platform. Oracle's cloud regions give them the ability to offer a broad, fast-growing suite of cloud applications, security, blockchain, and artificial intelligence services and Oracle Autonomous Database on enterprise-grade cloud infrastructure.
"Enterprises in the region still have limited ability to run mission-critical applications in the cloud and are struggling to attain the level of performance they have on-premises without a major overhaul," said Don Johnson, executive vice president, product development, Oracle Cloud Infrastructure. "With this new location, Oracle is delivering on its promise to deliver even more customers with consistently high performance, low predictable pricing and the flexibility our cloud brings to the table."
See also: What data center management will look like in 2019
Cloud adoption is increasing, but many enterprises find themselves reluctant to make the jump due to concerns about data security, privacy, and cost. Another stumbling block is that first generation public cloud services were not friendly toward traditional application architectures, which still have a place in most organizations. Oracle built their cloud infrastructure to address all of these issues and allow organizations to run demanding workloads with no security or cost concerns.
"Oracle's innovative cloud technologies will help our commercial and public sector customers in the region transform their business and improve citizen services. The new Toronto data center is supporting the fast-growing customer demand for an enterprise-grade cloud in the region. Canada is a very strategic marketplace for Oracle and we are excited to continue to invest in the country," said Rich Geraffo, Executive Vice President, North American Technology Division at Oracle.