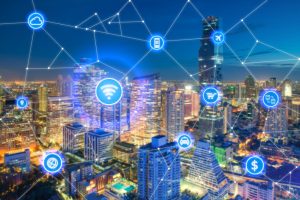 Geolocation, private area networks, and travel industry asset tracking are among the new offerings coming to their IoT services.
During last week's Connect 2019 event in Singapore, Ludovic Le Moan, CEO of IoT operator Sigfox, used his keynote address to make four major announcements regarding enhancements to their IoT services. All of the announcements have implications for large-scale IoT deployments.
Private Area Network launched
Sigfox will launch a Private Area Network (PAN) to give enterprises a choice of either private or global service. The PAN will initially be available in France during Q1 2020 but will eventually be deployed in the over 65 countries the company offers IoT services in. Sigfox expects to have more than 15 million registered objects by the end of the year and over 1,500 customers. Their Wide Area Network is also due to be completed next year.
See also: From AI World: Manufacturers Get Ready to Add AI to Their IoT
"Sigfox's PAN offer will benefit from the existing ecosystem around the Sigfox WAN. The possibility of using all the components on the market, combined with the use of extremely low transmission power to support objects without the need for batteries, gives Sigfox's PAN offer huge potential," comments Ludovic Le Moan, CEO and co-founder of Sigfox.
Geolocation services enhanced
The company also announced Atlas Native Complimentary (ANC), an addition to their Atlas Native geolocation service. ANC will be offered for free in exchange for data processing rights of GPS data. The data is compared with the network's fingerprints with machine learning to improve accuracy down to 800 meters. In addition, Atlas WiFi is now available as a partnership with HERE Technologies.
Benjamin Mazet, Product Management Director on the global Sigfox portfolio, said: "With this partnership offer and the machine learning algorithms used to compute and improve Atlas accuracy, Sigfox is constantly enhancing the quality of its geolocation services, bringing huge benefits to new and existing Sigfox customers – literally at the flick of a switch and by always keeping the device as simple as possible."
Amadeus and Sigfox team up for travel industry asset tracking
Sigfox also announced a new partnership with Amadeus. Amadeus is a provider of IT solutions for the travel and tourism industry. The two companies will form a strategic alliance called PinPoint and combine their knowledge and technology for travel industry asset tracking. Its goal is to deliver an end-to-end tracking solution for the airline industry that will enable them to keep closer tabs on luggage and high value assets to reduce financial losses and customer dissatisfaction. The service will begin availability next year.
"Sigfox technology is unique in its ability to track objects seamlessly across the globe, and at such a low cost. Combining Amadeus expertise and partners' network in travel with Sigfox technology, we can enable luggage tracking at a price that is within what consumers are ready to pay for, and thus bring peace of mind to billions of travelers." Marion Mesnage, Head of Research, Innovation & Ecosystems, Amadeus.
850,000 Japanese gas meters will use Sigfox network services
Finally, the company announced that NICIGAS in Japan will use SigFox's 0G network to connect 850,000 gas meters. It's one of the largest smart utility deployments in the world and will use a meter reader developed by UnaBiz and SORACOM. The network will be used to transfer data from the meters to NICIGAS' IoT platform. It can be remotely controlled and has over a decade of battery life. Data will be provided on an hourly rather than a monthly basis for more accurate reflections of gas usage and needs.
"With more precise gas consumption data, we can better analyze our demand and supply and turn them into actionable insights for our logistics and distribution channels to achieve maximum resource efficiency. In addition, it will enable us to propose optimal energy usage plans to our existing and potential customers," a NICIGAS spokesperson said.
The new smart meter solution will also include a feature that shuts down the gas valve in the event of an earthquake, which will be welcome in earthquake-prone Japan.